News
4/2008
The Sick has gone into retirement from playing shows as of 2008. Our first show was in SF on 2/9/1996, and our last was in Oakland 11/11/2007. We have had the time of our lives and want to thank everyone who has supported us through the years!
---
12/2006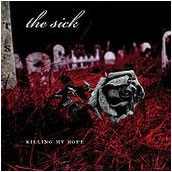 We released our new EP "Killing My Hope" on 11/11/06 – thanks to everyone who came out and supported us.
This release includes the following titles:
Betrayed
We Will
Metta
Aware
Die
Holy War
The Sword
We hope you like the new material!
---
7/2005


Here are a couple pics from our dates on the Vans Warped Tour 2005.
Thanks again to everybody who came out and supported.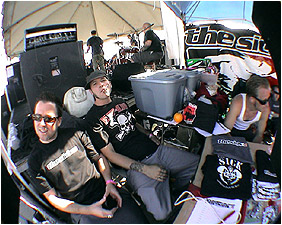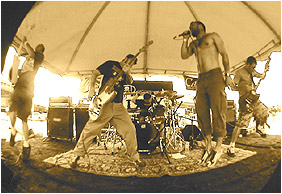 ---
4/2005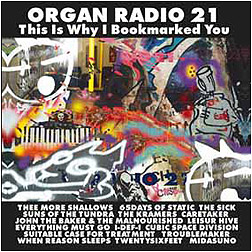 Check out this new ORG Records UK compilation CD called:
'ORGAN RADIO 21 – THIS IS WHY I BOOKMARKED YOU' that features our 'Broken Ways' track off our 'Better For Who?..' Cd.
Many thanks to our
friends at ORG Records / Organ Magazine for all of their support!
---
2004
We have a kick-ass new lineup in place and are rehearsing regularly in preperation to start gigging again in Fall 2004. We are putting together a new set of old and new material that we think everybody will enjoy. So stay tuned and watch for our upcoming dates.
---
This is our new drummer Billy McMillan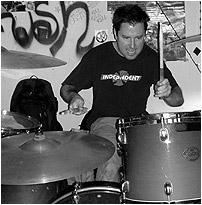 ---
This is our new bassist Matt O'Brien.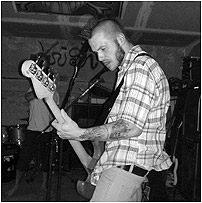 ---
2003

We recently finished shooting the footage for a new video that will be released in March of 2003. The song is 'Shoshin' from our latest CD.
It is now available for download here on our videos page.
The mtv logo is a joke so pipe down.
---
2002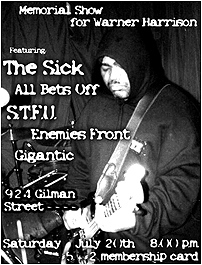 As most of you know by now, our bassist Warner Harrison passed in late May 2002.
Due to your overwhelming support, we have decided to pick up the pieces and carry on as a band. We have been blessed w/ a good man named Sammy (formerly of The Oozzies) who has a great amount of spirit and playing ability. He is not replacing Warner, that is not possible. But instead he is joining us so that we can continue to follow our dream and keep Warner alive in our hearts and in the scene. We will never forget.
We are having a memorial show to celebrate his life and his huge contribution to the bay area punk/hardcore scene on July 20th, 2002 at 924 Gilman in Berkeley, CA. All proceeds from the show will go to Warners 7 year old daughter Liliana.
---

2002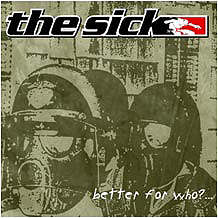 The new CD "Better For Who?.." is finally done and in production. It will be available at our shows in June and it should be available online and in record stores in July.
There 13 new songs on it and we will put some mp3's up soon, but don't let that stop you from buying it. We are all very proud of this one (our third). We hope you like it too!
---
We will be attending the annual EAT'M music conference in Las Vegas, Nevada this year. We will not be performing, due to the loss of our bassist, but some of us will still be there to represent.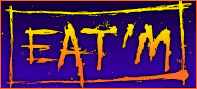 ---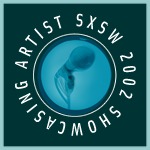 We attended the South By Southwest International music conference this year in Austin Texas. We had a great time and made a lot of new friends. Thanks to everyone who made our trip a blast!
---
The long-awaited 'Bring It On' video is finally done and available for viewing here on the view page. Tony's best friend Jean-Paul was the producer and he put a lot of work into it. A ton of our friends showed up and were extra's in it, (thanks again guys). Enjoy!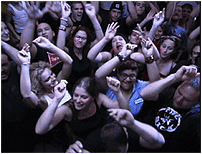 ---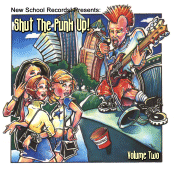 New School Records put out a compilation called 'Shut The Punk Up! – Vol. 2' with our song 'bulletproof' on it.. Along w/ 25 other great bands. (Good Riddance, Strung Out, No Motiv, Pulley, and Voodoo Glow Skulls just to name a few.) You can order it from thier website at: www.newschoolpunk.com.
---
Ok.. a little update on our new album.. There are rumors that copies are being circulated of a rehearsal demo that contains our new songs, it's true. We are planning to go into the studio to record in April. The new album "Better For Who?" should be available in early summer.

---



The Thrasher Presents: Funbox Tour was fun. didn't get paid, but what's new..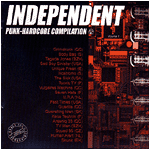 Enrages Productions in Rennes, France has released a truly excellent punk/hardcore compilation entitled 'Independent' with our song 'F.U.A.' on it. Check out thier website at www.enrageprod.com.
---

We are honored that 411 video magazine will be using our song 'Code of Growth' in an upcoming issue.

---

Blue Torch TV is now using our music as soundtrack to their weekly extreme sports show on the fox sports network. They say it reaches 65 million homes world wide. You can find out when it air's in your area on their website.
---

Porn Star Clothing company released their compilation 'hell bent for pleasure' with our song 'false erection' on it.. I didn't see it offered on their website yet, but you can get it at amazon or cdnow (it's not as bad as it sounds mom..)

---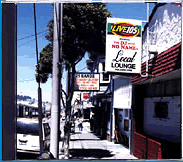 Live 105 released their 'Local Lounge Vol 2.' cd with our song 'fortitude' on it. There are 22 local bay area bands on it. It's available at Virgin Megastore and all Rasputin Music locations for $7.99. All proceeds are going towards saving local music..
More info at www.live105.com.
And if you're in a really good mood, you can also make requests for them to play our songs there.
---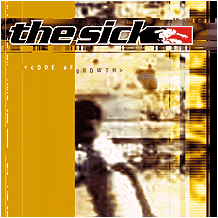 design by John Giang
Our second cd 'Code of Growth' was released on May 15th, 2000 on The Edge Recordz. We recorded and mixed it at Paramount Studios in Hollywood, CA. Jim Goodwin and Barry Conley both engineered and produced it. Check it out here on the listen page.

We have a song on the Thrasher Skateboarding Video 'Hall of Meat' that is out now,
They used the song 'Tailgate' during the vert section. You can order it from the Thrasher website.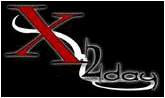 Espn2 has been using songs from both of our cd's as soundtrack for their show X2Day that explores behind the scenes of the X-Games..
---

The Karma Records Compilation Tribute CD to The Clash: 'City Rockers' with The Sick doing the song 'Garageland', is available through cdnow.com.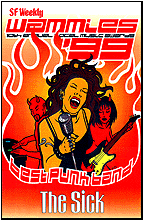 Thanks to all of you who voted for us in the 1999 SF Weekly Wammies, we won the 'Best Punk Band' award!! It felt really good to be recognized in our home town.
---

We spent three months last year touring in Europe for the first time. We met a ton of cool and very hospitable people and had our eyes opened to some amazing bands. We plan to focus on playing up and down the west coast and working on our next album this summer..
Until the next update….Hold Fast Stand True!